New Horizon: Why Crispin Murray re-engineered our ethical share fund
Pendal's head of equities Crispin Murray explains his vision for our newly renamed Pendal Horizon Fund (formerly known as Pendal Ethical Share Fund).

The year 2020 demonstrated some fundamental truths about the modern investment environment.
The world is vulnerable to shocks — from climate change to pandemics. Change is accelerating. Successful companies must confidently manage a wider set of risks than in the past, including environmental, social and governance (ESG) risks.
What are the implications for investors? What have we learned and how is Pendal responding?
We believe investors need:
•  Strategies that can protect against unpredictable outcomes.
•  Investments that benefit from and are leveraged to structural changes.
•  Investments that can enable and facilitate positive change while avoiding harm.
•  A high-conviction, all-weather, nimble portfolio.
Our approach to sustainable investing is grounded in these beliefs.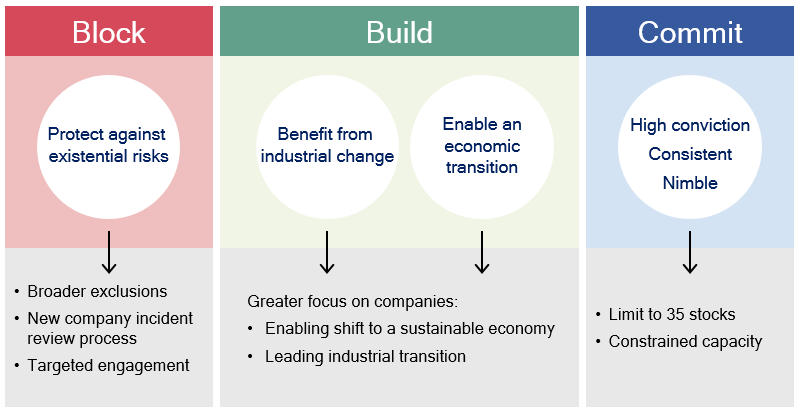 Block, build, commit … the foundations of Pendal's Horizon Fund

Now we have taken the Pendal Ethical Share Fund, with its 19-year history, and re-engineered it for the next two decades as Pendal Horizon Fund.
This enhanced strategy is:
• Built for performance. It's a concentrated, high-conviction strategy of 15 to 35 stocks that draws on the company insights and risk management underpinning Pendal's long and strong track record in performance
• Actively invests in companies that enable a more sustainable and "future-proof" Australian economy. This allows the fund to benefit from trends shaping coming decades, from digitalisation to decarbonisation. We allocate capital to companies that directly contribute — or enable others to contribute — to areas such as:
Pendal's Horizon Fund directs capital into these areas
• Avoids activities that undermine a more sustainable economy (see graph below). We screen out harmful industries such as fossil fuels, alcohol, gaming, tobacco, weapons, logging, predatory lending and companies that breach standards:
Pendal's enhanced Horizon Fund operates exclusionary screens in these areas
• Uses Pendal's deep responsible investment capabilities. This includes the advice of Regnan — our wholly-owned subsidiary — in assessing companies on their contribution to a sustainable, future-oriented Australian economy and their management of ESG risks.
• Prioritises active stewardship and engagement with companies to promote sustainable characteristics and minimise ESG risks. This leverages Pendal's depth of corporate access and scale of funds under management, allowing us to be an effective agent of change.
The outcome is a fund that is built for performance while also acting as a force for positive change in Australia's future. The fund is aligned with developing trends while benefiting from Pendal's proven capability.

Click here for more information about the Pendal Horizon Fund (formerly Pendal Ethical Share Fund).

Contact Us
For more information, please contact Pendal's Head of Responsible Investment Distribution Jeremy Dean at Jeremy.Dean@pendalgroup.com.
Pendal is an independent, global investment management business focused on delivering superior investment returns for our clients through active management.
Find out more about our investment capabilities: https://www.pendalgroup.com/about/investment-capabilities
Contact a Pendal key account manager: https://www.pendalgroup.com/about/our-people/sales-team/
This article has been prepared by Pendal Fund Services Limited (PFSL) ABN 13 161 249 332, AFSL No 431426 and the information contained within is current as at November 23, 2020. It is not to be published, or otherwise made available to any person other than the party to whom it is provided.
PFSL is the responsible entity and issuer of units in the Pendal Ethical Share Fund (Fund) ARSN: 096 328 219. A product disclosure statement (PDS) is available for the Fund and can be obtained by calling 1800 813 886 or visiting www.pendalgroup.com. You should obtain and consider the PDS before deciding whether to acquire, continue to hold or dispose of units in the Fund. An investment in the Fund is subject to investment risk, including possible delays in repayment of withdrawal proceeds and loss of income and principal invested.
This article is for general information purposes only, should not be considered as a comprehensive statement on any matter and should not be relied upon as such. It has been prepared without taking into account any recipient's personal objectives, financial situation or needs. Because of this, recipients should, before acting on this information, consider its appropriateness having regard to their individual objectives, financial situation and needs. This information is not to be regarded as a securities recommendation.
The information in this article may contain material provided by third parties, is given in good faith and has been derived from sources believed to be accurate as at its issue date. While such material is published with necessary permission, and while all reasonable care has been taken to ensure that the information in this article is complete and correct, to the maximum extent permitted by law neither PFSL nor any company in the Pendal group accepts any responsibility or liability for the accuracy or completeness of this information.
Performance figures are calculated in accordance with the Financial Services Council (FSC) standards. Performance data (post-fee) assumes reinvestment of distributions and is calculated using exit prices, net of management costs. Performance data (pre-fee) is calculated by adding back management costs to the post-fee performance. Past performance is not a reliable indicator of future performance.
Any projections contained in this article are predictive and should not be relied upon when making an investment decision or recommendation. While we have used every effort to ensure that the assumptions on which the projections are based are reasonable, the projections may be based on incorrect assumptions or may not take into account known or unknown risks and uncertainties. The actual results may differ materially from these projections.