Vimal Gor: how to think about the role of bonds in a portfolio right now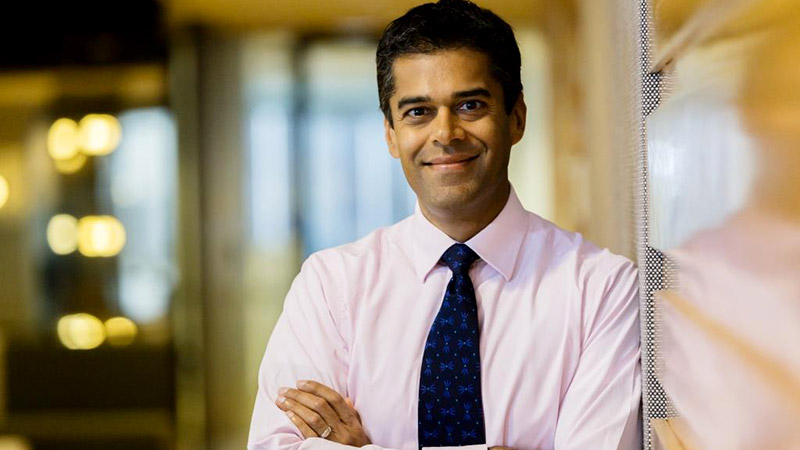 What's likely to happen next in bond markets and how important are they in a portfolio right now? Here's a quick overview from Pendal's Head of Bond, Income and Defensive Strategies Vimal Gor (pictured)
There are opportunities in bonds after the recent sell-off
Vaccines, stimulus and inflation are the factors to watch
Exposure to bonds is something investors shoud be thinking about
THE big question in financial markets now is what will happen to bond markets and how important are they in a portfolio today.
The sell-off in bond markets was quick – more so than after the global financial crisis of 2007-8 or the 2015 economic slowdown.
US 10-year Treasuries are yielding close to 1.55 per cent. Six weeks ago they were yielding scarcely over 1 per cent. Bond holders are suffering capital losses.
Is it time to cut and run? No, says Vimal Gor, head of bond, income and defensive strategies at Pendal.
"The markets are focused on three things," Gor says. "The roll-out of the COVID vaccine, the size of the stimulus package in the United States and whether nascent inflation will pick up."
Investors' views on these three factors will determine how many bonds to hold.





"There's a strong argument that the reflation trade is fully priced in," Gor says. The reflation trade refers to investing on the basis that the economic cycle is in an upswing, where both growth and inflation are accelerating.
"You can see this. Equities have done well and bonds have suffered," he says.
He points out that central banks around the world are determined to keep a lid on yields at the short end of the yield curve, even if many investors aren't quite as confident.
"The Reserve Bank has pre-committed to three years of low interest rates. The Fed's actions have been similar. The European Central bank CB has taken action. Most central banks have given up on forecasting inflation," Gor says.
In fact the market may turn, and the sell-off in bonds could well reverse.
"There are now opportunities in bond markets. They've been oversold … so bond yields should fall," Gor says.
Outlook for inflation
Gor is not worried about the outlook for inflation, even though many investors are less sanguine about future price rises.
"If it picks up, it's supply-side related," he says, referring to potentially higher energy and raw material costs and supply bottlenecks.
"Also, inflation data this year is up against deflation last year, so any headline number will be relatively larger.
"We will get a bout of short, sharp inflation but as for sustained price rises – well we've been waiting for that for years and it hasn't come," Gor says.
He notes the wrinkle in the bond market currently. The Reserve Bank says it will keep bond yields at 0.1 per cent. But local three-year bonds have been yielding more than that in recent weeks.
"It's very difficult to lose money buying three-year bonds at the moment given what the Reserve Bank has said," he says.
At this point, playing the reflation trade is much better done in commodities or equities, not bonds.
"There was a strong argument that government bonds would play much lesser of a role given the sell-off. But now, after the sell-off, exposure to bonds in portfolios is something that every investor should be thinking about."
Taking advantage
Gor says Pendal has been "taking advantage of these attractive yields in our Australian bond portfolios.
"Markets are looking for cash rates to rise to 2% in five years time — a level last seen in 2015. This is highly unlikely and therefore bond markets are cheap.
"We are happy to look through the current volatility to take advantage of these opportunities."

About Vimal Gor and Pendal's Bond, Income and Defensive Strategies (BIDS) boutique
Led by Vimal Gor, Pendal's BIDS boutique is one of the most experienced and well-regarded fixed income teams in Australia. In 2020 the team won the Australian Fixed Interest category in the Zenith awards.
With the goal of building the most defensive line of funds in Australia, Vimal oversees A$22 billion invested across income, composite, pure alpha, global and Australian government strategies.
Vimal sets the strategy, processes and risk management for the boutique and all funds managed within it.
Pendal is an independent, global investment management business focused on delivering superior investment returns for our clients through active management.
This article has been prepared by Pendal Fund Services Limited (PFSL) ABN 13 161 249 332, AFSL No 431426 and the information contained within is current as at May 7, 2021. It is not to be published, or otherwise made available to any person other than the party to whom it is provided. PFSL is the responsible entity and issuer of units in the Pendal Focus Australian Share Fund (Fund) ARSN: 113 232 812. A product disclosure statement (PDS) is available for the Fund and can be obtained by calling Customer Relations on 1300 346 821 (8am to 6pm Sydney time) or at our website www.pendalgroup.com. You should obtain and consider the PDS before deciding whether to acquire, continue to hold or dispose of units in the Fund. An investment in the Fund is subject to investment risk, including possible delays in repayment of withdrawal proceeds and loss of income and principal invested.
This article is for general information purposes only, should not be considered as a comprehensive statement on any matter and should not be relied upon as such. It has been prepared without taking into account any recipient's personal objectives, financial situation or needs. Because of this, recipients should, before acting on this information, consider its appropriateness having regard to their individual objectives, financial situation and needs. This information is not to be regarded as a securities recommendation.
The information in this article may contain material provided by third parties, is given in good faith and has been derived from sources believed to be accurate as at its issue date. While such material is published with necessary permission, and while all reasonable care has been taken to ensure that the information in this article is complete and correct, to the maximum extent permitted by law neither PFSL nor any company in the Pendal group accepts any responsibility or liability for the accuracy or completeness of this information.
Performance figures are calculated in accordance with the Financial Services Council (FSC) standards. Performance data (post-fee) assumes reinvestment of distributions and is calculated using exit prices, net of management costs. Performance data (pre-fee) is calculated by adding back management costs to the post-fee performance. Past performance is not a reliable indicator of future performance.
Any projections contained in this article are predictive and should not be relied upon when making an investment decision or recommendation. While we have used every effort to ensure that the assumptions on which the projections are based are reasonable, the projections may be based on incorrect assumptions or may not take into account known or unknown risks and uncertainties. The actual results may differ materially from these projections.