Vimal Gor: Bond sell-off looks to have run its course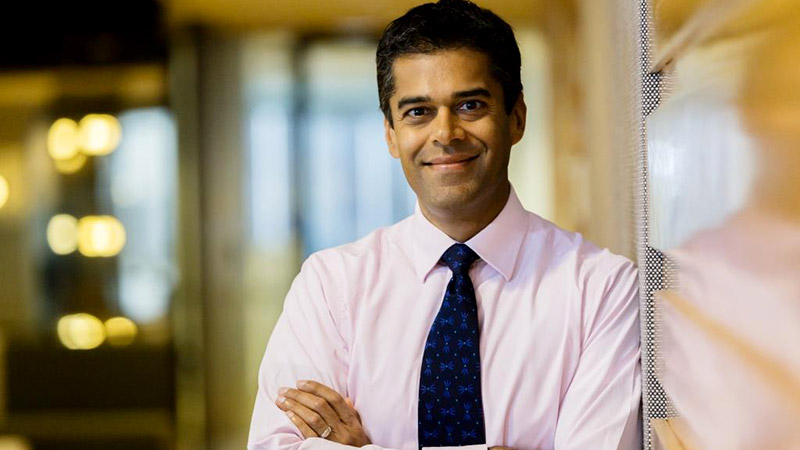 Bonds look like great value after a sell-off that appears to have run its course, argues Pendal's Head of Bond, Income and Defensive Strategies Vimal Gor (pictured)
Bond sell-off a 'credibility test' for central banks
Reversal of decades of falling inflation unlikely
Bonds look good value

RECENT instability in bond markets is shaping into a credibility test for central banks, but Pendal's Vimal Gor cautions investors against expecting a reversal of the deflationary environment of the past few decades.
A sharp sell-off in bond markets in recent weeks has sent the yield on US 10-year treasuries above 1.7 per cent from scarcely over 1 per cent a few weeks ago.
Gor, who leads Pendal's Bond, Income and Defensive Strategies team, says the sell-off indicates a divergence between the views of the markets and central banks.
"What it's telling you is the market is questioning central banks' credibility," he says, speaking at last week's Conexus Fixed Income and Private Credit Forum Digital event.
"They're questioning both their forward guidance and their willingness to stick to quantitative easing packages."
Reflation not inflation
Still, Gor cautions against expecting a reversal of the deflationary environment of the past few decades because the demographic and technological drivers of lower prices have not changed.
"I think it's more reflation than inflation," he says.





"We know inflation is going to be higher over in the next few months" because it will be compared to the lower prices seen during the heights of the COVID pandemic. "But it's a very big ask to expect the deflation environment to have come to an end.
"So yes, there is a short run pickup in inflation, which is pressuring bond yields higher, but I question whether that narrative is going to run much further.
"If anything, bonds look great value to us now.
"I think that the sell-off in bonds has largely run its course."
QE risks for markets
Gor raises questions over the long-term risks of quantitative easing (QE) for markets, saying that central banks determination to hold bond yields down is artificially lifting the price of every other asset.
"Historically, the way yield curves worked is the central bank sets the short-term interest rate, which has an effect on the very short end part of the curve and has less effect as you go up the curve as that's driven by supply and demand.
"So the front end is locked, the back end moves around.
"Now the central bankers are telling you they want to control the entire yield curve.
"Effectively, they're telling you that the central bank knows better than the private sector where the price of credit and interest rates should be.
This limits the returns available in government bonds and forces investors to seek a return elsewhere.
"If you hold bond yields down artificially… it has impact on every other asset. Everything from private equity to venture capital to SPACS [special purpose acquisition companies] to real estate – every asset in the world is largely a derivative of a central bank."
Cryptocurrency role in portfolios
The risk inherent in QE means investors should consider seeking out defensive alternatives to bonds as they construct portfolios, with cryptocurrencies like bitcoin a potential supplement to bonds.
"If I was to say to you 'sell all your government bonds and buy crypto' well that's a ridiculous statement and I'd never say it.
"But instead of owning 100 per cent of your defensive assets in government bonds … how about you think about utilising other strategies and at times utilise crypto because they do have positive characteristics that you find it very few other assets.
"So were you to utilise them at the right time, they would add significantly to your defensive portfolio. That's how we approach it."
About Vimal Gor and Pendal's Bond, Income and Defensive Strategies (BIDS) boutique
Led by Vimal Gor, Pendal's BIDS boutique is one of the most experienced and well-regarded fixed income teams in Australia. In 2020 the team won the Australian Fixed Interest category in the Zenith awards.
With the goal of building the most defensive line of funds in Australia, Vimal oversees A$22 billion invested across income, composite, pure alpha, global and Australian government strategies.
Vimal sets the strategy, processes and risk management for the boutique and all funds managed within it.
Pendal is an independent, global investment management business focused on delivering superior investment returns for our clients through active management.
This article has been prepared by Pendal Fund Services Limited (PFSL) ABN 13 161 249 332, AFSL No 431426 and the information contained within is current as at April 01, 2021. It is not to be published, or otherwise made available to any person other than the party to whom it is provided.
This article is for general information purposes only, should not be considered as a comprehensive statement on any matter and should not be relied upon as such. It has been prepared without taking into account any recipient's personal objectives, financial situation or needs. Because of this, recipients should, before acting on this information, consider its appropriateness having regard to their individual objectives, financial situation and needs. This information is not to be regarded as a securities recommendation.
The information in this article may contain material provided by third parties, is given in good faith and has been derived from sources believed to be accurate as at its issue date. While such material is published with necessary permission, and while all reasonable care has been taken to ensure that the information in this article is complete and correct, to the maximum extent permitted by law neither PFSL nor any company in the Pendal group accepts any responsibility or liability for the accuracy or completeness of this information.
Performance figures are calculated in accordance with the Financial Services Council (FSC) standards. Performance data (post-fee) assumes reinvestment of distributions and is calculated using exit prices, net of management costs. Performance data (pre-fee) is calculated by adding back management costs to the post-fee performance. Past performance is not a reliable indicator of future performance.
Any projections contained in this article are predictive and should not be relied upon when making an investment decision or recommendation. While we have used every effort to ensure that the assumptions on which the projections are based are reasonable, the projections may be based on incorrect assumptions or may not take into account known or unknown risks and uncertainties. The actual results may differ materially from these projections.