A year since the low: How Crispin Murray drove outperformance during Covid
One year after the market low, here's how head of equities Crispin Murray (pictured) drove outperformance for

Pendal Focus Australian Share Fund

during the pandemic. Chris Adams reports.
THIS week marks one year since the market's low point during the pandemic.
Since the pre-Covid peak on February 21, 2020, Pendal Focus Australian Share Fund has returned 2.9% after fees (to Mar 19, 2021).
The benchmark ASX 300 lost 2.2% over the same time according to Morningstar.
A key factor in the fund's 5.11% outperformance against the benchmark has been its ability to perform through each phase of the market last year. This is driven by our approach to portfolio construction.
Pendal Focus Australian Share Fund does not rely on a certain set of macro variables to be in place to perform. This has enabled the fund to deliver outperformance while other more thematic approaches have not performed as well.
A market of rapid rotations
The world has run out of clichés to describe the past 12 months.
We had the impact of lockdown policies, supply chain disruption, fiscal stimulus, monetary policy, China-Australia trade tension, the shift of consumers to online, increased focus on ESG and US Presidential elections.
It's fair to say we have never seen such a material change to so many structural factors in such a short space of time.
Swift changes in key macro factors prompted often-sudden rotations in market leadership.
Defensives did well in the initial market slump. Though the nature of the crisis meant some sectors previously considered defensive – such as A-REITS – were anything but.
The policy response of slashed interest rates helped growth companies renew their pre-Covid surge.
In November, news of successful vaccines drove a swift rotation to cyclicals and value.
Meanwhile entire industries and business models were structurally disrupted in a matter of weeks. Other companies encountered a once-in-a-generation opportunity.
As a result it's been an incredibly challenging period for investors.
It has also been a period in which the Pendal Focus Fund showed its mettle.
How our portfolio construction drove outperformance
Relying on one "style" of investing can lead to prolonged periods of underperfomance — as value investors have seen for many years.
Trying to "time" swings in style involves anticipating changes in macro variables and investor sentiment — something that's incredibly hard to get consistently right.
We address this issue by building portfolios based on company insight. We want a portfolio that can perform regardless of the environment, driven by stock selection.
Our aim is a portfolio that is not hostage to one style or a theme playing out in a certain way. In environments of heightened uncertainty, we want to avoid heroic calls on binary outcomes.
Under our approach we created different segments in the portfolio that worked together, allowing it to perform in different scenarios. Key segments last year included defensives, growth stocks, policy beneficiaries, quality franchises and recovery plays.
The key is to find companies with attractive fundamental features that can help limit the downside if the macro factors are not supportive, while delivering the potential for large upside gains in the right environment.
This requires an understanding of companies and industries drawn from access to management that comes with our 18-strong, highly experienced Australian equity team.
2020 provides a strong case study of why we do it this way:
We were able to move quickly to identify and avoid companies facing existential threats.
We were able to take opportunities in companies where we anticipated a better outcome than share prices implied – such as Nine Entertainment and Qantas.
Pendal Focus Australian Share Fund's outperformance in periods of negative sentiment was driven by defensive holdings such as Metcash (MTS) and by the portfolio insurance provided by gold miners such as Evolution (EVN).
Falling bond yields helped our growth exposure via Xero (XRO) – which has then held up well due to company-specific fundamentals as other growth stocks sold off.
Recent outperformance has been driven by recovery-linked exposures such as Qantas (QAN), Santos (STO) and Westpac (WBC).
Throughout the period there has been a strong tailwind from policy beneficiaries such as Fortescue Mining (FMG) and JB Hi-Fi (JBH).
We have also done well as the market recognised the value offered in long-term winners such as Aristocrat (ALL), James Hardie (JHX) and Nine Entertainment (NEC).
The outcome is a portfolio that has outperformed through each phase of the market in 2020.
Outlook
The world is now in a better place than many expected a year ago.
The economic rebound has been strong, helped by a surge in monetary and fiscal policy support. Vaccines are arriving. The world is getting better at living with the virus and mitigating its economic damage.
Nevertheless, risks remain.
The risk of premature policy-tightening cannot be ruled out. Vaccinations are working, but efficacy against new strains must be monitored. Geopolitical risk – particularly around the relationship between China and Australia – is higher than usual.
There has been a rotation from growth to value and cyclicals, but the reality is far more complex than broad style labels.
Within value there are plenty of companies that are structurally challenged and are cheap for very good reason.
Growth stocks may have lost the tailwind of falling real rates, but plenty of growth companies remain attractive long-term investments. It's interesting to note the market seems to be starting to differentiate between profitable growth companies with cash flow and more speculative, long-duration stocks.
Given heightened macro risk, we believe a strategy that is not reliant on a certain macro outcome offers the best chance for consistent performance.
If value, recovery-related stocks continue to outperform, that part of our portfolio will benefit.
If inflation starts to creep up we have exposures with pricing power that will do well.
If we see a hit to sentiment – either from tighter policy or a deterioration in Covid – then the defensives should step up.
We continue to have exposure to carefully selected growth stocks, where we see fundamental valuation support on the basis of earnings visibility and realistic expansion opportunities.
The upshot is that we believe our balanced approach remains as valid now as it did a year ago. It has served our investors well in the sell-off and has worked in the rebound.
No-one knows what will come next. But we believe our portfolio construction, underpinned by our company knowledge, should give investors confidence that their portfolio is well positioned regardless of the next phase of the Covid saga.
Here's an overview of Pendal Focus Australian Share Fund performance at February 28, 2021:
Source: Pendal. *Benchmark: S&P/ASX300. Past performance is not a reliable indicator of future performance
About Crispin Murray and Pendal Focus Australian Share Fund
Crispin Murray is Pendal's Head of Equities. He has more than 27 years of investment experience and leads one of the largest equities teams in Australia.
Crispin's Pendal Focus Australian Share Fund has beaten the benchmark in 12 years of its 16-year history (after fees), across a range of market conditions , as this graph shows: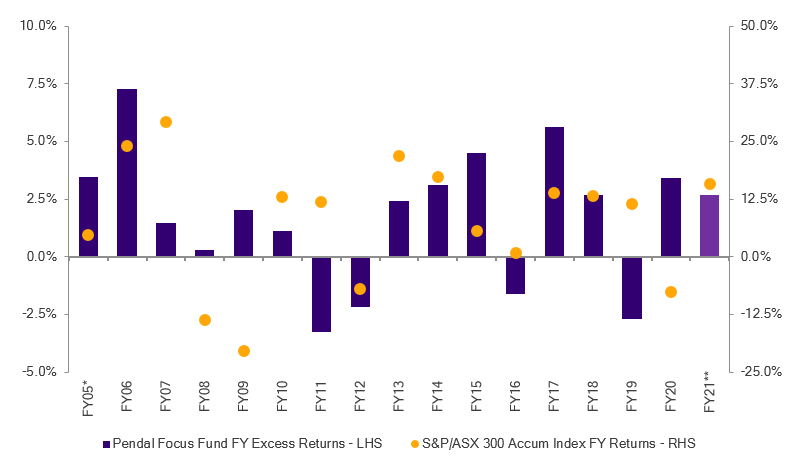 Source: Pendal. Performance is after fees and before taxes. *From 01 Apr 05; **as at 28 Feb 21. Past performance is not a reliable indicator of future performance.
Pendal is an independent, global investment management business focused on delivering superior investment returns for our clients through active management.
Find out more about Pendal Focus Australian Share Fund here. 
This article has been prepared by Pendal Fund Services Limited (PFSL) ABN 13 161 249 332, AFSL No 431426 and the information contained within is current as at March 23, 2021. It is not to be published, or otherwise made available to any person other than the party to whom it is provided. This article is for general information purposes only, should not be considered as a comprehensive statement on any matter and should not be relied upon as such. It has been prepared without taking into account any recipient's personal objectives, financial situation or needs. Because of this, recipients should, before acting on this information, consider its appropriateness having regard to their individual objectives, financial situation and needs. This information is not to be regarded as a securities recommendation. The information in this article may contain material provided by third parties, is given in good faith and has been derived from sources believed to be accurate as at its issue date. While such material is published with necessary permission, and while all reasonable care has been taken to ensure that the information in this article is complete and correct, to the maximum extent permitted by law neither PFSL nor any company in the Pendal group accepts any responsibility or liability for the accuracy or completeness of this information. Performance figures are calculated in accordance with the Financial Services Council (FSC) standards. Performance data (post-fee) assumes reinvestment of distributions and is calculated using exit prices, net of management costs. Performance data (pre-fee) is calculated by adding back management costs to the post-fee performance. Past performance is not a reliable indicator of future performance. Any projections contained in this article are predictive and should not be relied upon when making an investment decision or recommendation. While we have used every effort to ensure that the assumptions on which the projections are based are reasonable, the projections may be based on incorrect assumptions or may not take into account known or unknown risks and uncertainties. The actual results may differ materially from these projections.