Vimal Gor's weekly COVID-19 analysis for investors (Apr 9)
Here is a weekly COVID-19 investor overview covering virus spread, economic impact and market insights from Pendal Head of Bond, Income and Defensive Strategies, Vimal Gor.
Watch this short video recorded at Vimal's home office, or read the transcript below.
TRANSCRIPT
Here I am for our regular weekly COVID outlook.
On COVID-19, it's quite clear that the curves are flattening everywhere.
Though obviously the US isn't flattening nearly as much as everyone else. That's because the extent of the lockdowns they've done have been so much smaller — and we're still effectively hitting peak period in the US.
For the next week or so we can expect the numbers to increase in the US. But then alongside the rest of the world, we can expect them to start tailing off — and there's already talk of people coming back to work.
The whole narrative is shifting now. Because the economic data has been so bad, as I mentioned last week, the whole focus now is on how quickly we can get people back to work and how quickly economies can get back to normal.
Focus has shifted from trying to stop the transmission of the virus — because we know it's already beginning to tail off and we can see the curves flattening everywhere — to getting everyone back to work.
Trump recently said he doesn't want the cure to be worse than the disease.
So as soon as we can open up the economies the better. And that's happening because the economic data coming out are so atrociously bad. As I sit here today, the S&P is now down less than 20% from its all time high. You need to put that in perspective of economic data that's going to be the worst since the Great Depression.
We've got this big disconnect that's happening between asset prices and the underlying economic data.
The reason for that is the liquidity that's flooding through the system. I talked about this last week.
The key issue is — this is liquidity. It's not solving the solvency issue and that's going to be an issue that's addressed over the coming weeks and quarters and years.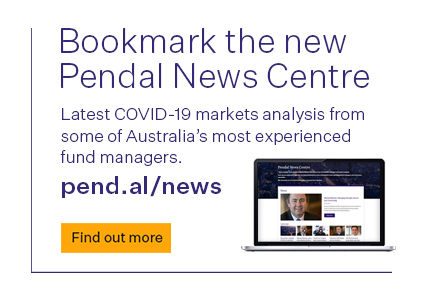 So let's just do a quick run through the asset classes before I sign off for the long Easter weekend.
Firstly, as you know, I love bonds. I love bonds pretty much everywhere apart from peripheral bonds in Europe and some of the Asian economies.
But generally I like bonds and I think the bond yields are going to zero across the world — so you can be a happy holder and make very good capital returns out of them over the coming period.
In terms of FX, I think the only call you need to make is about the US dollar. We know there's still a dollar shortage out there, but the Fed and central banks around the world are doing everything to alleviate that shortage.
So I don't think you can have a strong view on the dollar now until the balance comes out or one or the other side.
On commodities, I think all commodities apart from precious metals are coming down.
I think that's a big disinflationary impact for the entire world and we'll see that and feel it either the next quarters and years.
In terms of credit, I think there's a bifurcation. You can happily own the stuff that's high grade, and hopefully that the Fed's buying as well, which is effectively investment-grade credit high up.
I don't think you want to be in low-grade investment grade credit or the stuff the Fed is deliberately keeping away from, which is high yield.
So I think you need to be very careful about your credit exposure. You can safely own some sectors, but certainly keep away from others.
That's it for this week. I'll see you next week.
This article has been prepared by Pendal Fund Services Limited (PFSL) ABN 13 161 249 332, AFSL No 431426 and the information contained within is current as at April 9, 2020. It is not to be published, or otherwise made available to any person other than the party to whom it is provided.
This article is for general information purposes only, should not be considered as a comprehensive statement on any matter and should not be relied upon as such. It has been prepared without taking into account any recipient's personal objectives, financial situation or needs. Because of this, recipients should, before acting on this information, consider its appropriateness having regard to their individual objectives, financial situation and needs. This information is not to be regarded as a securities recommendation.
The information in this article may contain material provided by third parties, is given in good faith and has been derived from sources believed to be accurate as at its issue date. While such material is published with necessary permission, and while all reasonable care has been taken to ensure that the information in this article is complete and correct, to the maximum extent permitted by law neither PFSL nor any company in the Pendal group accepts any responsibility or liability for the accuracy or completeness of this information.
Performance figures are calculated in accordance with the Financial Services Council (FSC) standards. Performance data (post-fee) assumes reinvestment of distributions and is calculated using exit prices, net of management costs. Performance data (pre-fee) is calculated by adding back management costs to the post-fee performance. Past performance is not a reliable indicator of future performance.
Any projections contained in this article are predictive and should not be relied upon when making an investment decision or recommendation. While we have used every effort to ensure that the assumptions on which the projections are based are reasonable, the projections may be based on incorrect assumptions or may not take into account known or unknown risks and uncertainties. The actual results may differ materially from these projections.