Tim Hext's weekly bond market outlook
Here's the bond market outlook from Pendal portfolio manager Tim Hext ahead of next week's interest rate decision. Reported by portfolio specialist Dale Pereira
It's been an eventful time in the bond market as Australians prepare for Tuesday November 3 – not the Melbourne Cup or the US election, but the RBA statement.
Since early September the RBA has been dropping hints about further easing and the market is now largely priced.
We managed to pick up on the hints and have been well placed for the moves.
A cash rate cut to 0.10% and 3-year Yield Curve Control to 0.10% seem certain. The ES account interest rate (RBA interest on surplus balances) will likely go to 0.01%.
This last one is important because it becomes the effective cash rate as the RBA has left huge surplus balances in the market.
This may see some cash products tip into negative rates. The RBA was keen to avoid this earlier in the year but seems comfortable with it now.
Quantitative Easing
Quantitative Easing (QE) is also likely.
The market expects the RBA to announce a program of some $100 billion of bond buying over the next year.
This will likely be outstandings weighted, meaning about $65 billion in government bonds and $35 billion in semi-government bonds.
This will account for about a quarter of government new issuance and almost half state government new issuance.
This last one is important — Governor Lowe has been very vocal about states needing to collectively spend an extra $50 billion to help the recovery. It might seem rude to urge this and not assist.
Markets are now trading Australian 10-year bonds at flat to US 10-year bonds after an average of 25 basis points over the last six months.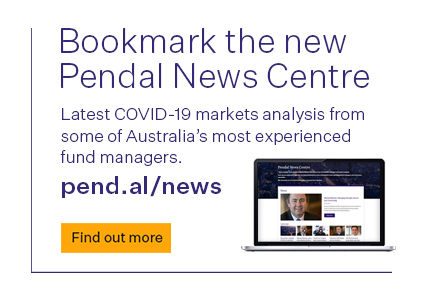 Importantly, the expectation of easing has seen a weaker Australian dollar.
In a recent speech Governor Lowe was explicit in his concerns that higher rates here would make the currency stronger — an outcome no country wants during a recovery.
This shows international factors have a huge impact on our monetary policy.
So come Tuesday November 3, markets expect a rate cut and QE.
Two undecided factors are the interest the RBA will offer on ES Balances and how much and what for QE.
For bond managers like us, how far out the bond curve they buy will be vital for relative value and what we hold.
Modern Monetary Theory
We keep getting asked: "is this Modern Monetary Theory?"
Technically no, but effectively yes.
MMT urges money financing — the RBA printing money and giving it to the government. QE involves the government issuing bonds to the market and the RBA then buying some of them from the market.
The RBA thinks this is a vital distinction, but a casual observer might call it a nuance.
Tim Hext is a portfolio manager with Pendal's Bond, Income and Defensive Strategies team.
Pendal is an independent, global investment management business focused on delivering superior investment returns for our clients through active management.
Find out more about our investment capabilities: https://www.pendalgroup.com/about/investment-capabilities
Contact a Pendal key account manager:
https://www.pendalgroup.com/about/our-people/sales-team/
This article has been prepared by Pendal Fund Services Limited (PFSL) ABN 13 161 249 332, AFSL No 431426 and the information contained within is current as at October 23, 2020. It is not to be published, or otherwise made available to any person other than the party to whom it is provided.
This article is for general information purposes only, should not be considered as a comprehensive statement on any matter and should not be relied upon as such. It has been prepared without taking into account any recipient's personal objectives, financial situation or needs. Because of this, recipients should, before acting on this information, consider its appropriateness having regard to their individual objectives, financial situation and needs. This information is not to be regarded as a securities recommendation.
The information in this article may contain material provided by third parties, is given in good faith and has been derived from sources believed to be accurate as at its issue date. While such material is published with necessary permission, and while all reasonable care has been taken to ensure that the information in this article is complete and correct, to the maximum extent permitted by law neither PFSL nor any company in the Pendal group accepts any responsibility or liability for the accuracy or completeness of this information.
Performance figures are calculated in accordance with the Financial Services Council (FSC) standards. Performance data (post-fee) assumes reinvestment of distributions and is calculated using exit prices, net of management costs. Performance data (pre-fee) is calculated by adding back management costs to the post-fee performance. Past performance is not a reliable indicator of future performance.
Any projections contained in this article are predictive and should not be relied upon when making an investment decision or recommendation. While we have used every effort to ensure that the assumptions on which the projections are based are reasonable, the projections may be based on incorrect assumptions or may not take into account known or unknown risks and uncertainties. The actual results may differ materially from these projections.