Tim Hext on the RBA's actions and the outlook for bonds
Here, Pendal fund manager Tim Hext gives an overview of the Reserve Bank's COVID-19  actions and the outlook on bonds.
Watch this short video recorded at Tim's home office, or read the transcript below.
TRANSCRIPT
Greetings to everyone wherever you're watching, I hope you're safe and well.
My name's Tim Hext and I'm a fund manager in the Bond, Income and Defensive Strategy team at Pendal Group.
I'm going to give you a quick update on what we're seeing in markets at these crisis times and offer a few views about where we're going from here.
As you all know, this is first and foremost a health crisis which has now become an economic crisis. Until the health crisis is fixed, the economic crisis will continue.
It's unlike any other economic crisis we've seen before. The usual way we get into situations like this economically is through a collapse in demand or a collapse in supply as saw in the '70s.
What that means is the standard textbook way of looking at things — and the way economists gravitate at a time like this — is kind of irrelevant.
The only question to ask at this point in time is: "when is the health crisis officially fixed so things can resume and therefore alleviate the economic crisis?"
It really doesn't help to talking about "is there going to be a recession or depression?" It's something we've never seen before and it's something we just don't have in our textbooks.
It's kind of — to frame a new word from hibernation and recession — a "hiber-cession". It's something where collapse in supply and demand happens at the same time.
So the consequences medium-to-longer-term are going to be very different to what we've seen coming out of other crises.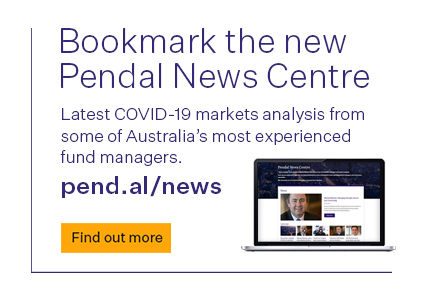 Markets
So getting onto markets and our portfolio. The market's clearly had a lot of liquidity stress early on in March.
We saw quite large redemptions out of various bond funds, either moving on, re-balancing back into equities or in some cases just needing to cash up for various reasons.
So bonds were quite stressed, but the Reserve Bank was reasonably quick to get in there and fix that problem. It learned from the GFC that the first thing you have to do is flush the market with liquidity.
We've seen billions upon billions of dollars put into the banking system.  The banking system now in fact has too much cash — $60 billion a day is going back to the Reserve Bank because they don't have a use for it.
So there's plenty of cash in the system and through various means that has started to trickle out.
So government bonds, for example — as you probably saw, the RBA is now doing Quantitative Easing, trying to keep three-year bonds around 25 basis points.
So far they bought around $24 billion of bonds and that number's going up every day. So huge amounts of bond-buying that puts cash back into the system as well.
What we've seen is the Reserve Bank of Australia (RBA) really leave a lot of money around. Banks now have access to term funding. The Australian Office of Financial Management for example, is now buying mortgage-backed securities.
We haven't seen anything in the corporate bond space yet — that may be yet coming to provide some help there. So our funds have managed to maintain reasonable levels of liquidity.
We've gone as we always have. We are at the defensive end of the fixed income universe. We tend to run higher levels of liquidity anyway and it's put us in good stead to meet any needs during the crisis.
So the Reserve Bank has fixed that problem. Of course the economic problems and the credit problems in the system are going to require a lot more work. And as I said, we'll see a lot more I think in the weeks ahead from that.
Medium-term outlook
But what does it mean for us medium term? Well, the macro in a sense has now become the micro.
You've got to look at everything on an industry-by-industry basis in terms of who can come out of this the quickest.
Certain industries are obviously sailing through. There are others who are shutting down, but in a sense can restart quite quickly and are likely to see demand return.
But there's also some for whom the world has changed, where the cyclical will no doubt become part of the structural.
We look heavily towards our equities team for advice on those sorts of areas. We're going to be keeping a very close eye on that because the value opportunities are going to be incredible going forward.
Obviously like everyone, we hope antiviral drugs start to come out in the next month or two to take the tail risk out of the health crisis.
Reduce the number of hospitalisations required and then you can start to reduce the shutdown. People will then still get COVID-19 but in a sense it will just be like a bad flu season. And if you start to reach that point, the economy can start to get back into some sort of shape anyway.
Although it will be a slow process.
Hopefully of course by the end of the year we'll have a vaccine which removes this problem going forward.
But we do remain optimistic that although the darkest days are probably yet to come — particularly internationally — Australia does seem to be flattening the curve. We've got to look six-to-12 months ahead.
What does it mean for bonds?
Well the Reserve Bank is anchoring cash rates at 25 basis points. They'll be there for at least a couple of years.
They've told us they're anchoring the three-year right there as well.
Bond funds and bonds generally are going to be fairly well supported, but the attention will turn at some point for longer bonds into the medium-to-longer term inflation outlook.
As mentioned, I'll come back to that at another time, so stay safe.
Stay well, show some of peace and love to those around you and we'll speak to you again soon.
Thank you.
This article has been prepared by Pendal Fund Services Limited (PFSL) ABN 13 161 249 332, AFSL No 431426 and the information contained within is current as at March 31, 2020. It is not to be published, or otherwise made available to any person other than the party to whom it is provided.
This article is for general information purposes only, should not be considered as a comprehensive statement on any matter and should not be relied upon as such. It has been prepared without taking into account any recipient's personal objectives, financial situation or needs. Because of this, recipients should, before acting on this information, consider its appropriateness having regard to their individual objectives, financial situation and needs. This information is not to be regarded as a securities recommendation.
The information in this article may contain material provided by third parties, is given in good faith and has been derived from sources believed to be accurate as at its issue date. While such material is published with necessary permission, and while all reasonable care has been taken to ensure that the information in this article is complete and correct, to the maximum extent permitted by law neither PFSL nor any company in the Pendal group accepts any responsibility or liability for the accuracy or completeness of this information.
Performance figures are calculated in accordance with the Financial Services Council (FSC) standards. Performance data (post-fee) assumes reinvestment of distributions and is calculated using exit prices, net of management costs. Performance data (pre-fee) is calculated by adding back management costs to the post-fee performance. Past performance is not a reliable indicator of future performance.
Any projections contained in this article are predictive and should not be relied upon when making an investment decision or recommendation. While we have used every effort to ensure that the assumptions on which the projections are based are reasonable, the projections may be based on incorrect assumptions or may not take into account known or unknown risks and uncertainties. The actual results may differ materially from these projections.