Tim Hext: 'On behalf of asset owners, thank you Central banks'
Here's our weekly Bond, Income and Defensive Strategies wrap from Pendal portfolio manager Tim Hext (pictured).

THIS WEEK we saw rallies everywhere.
Massive fiscal and monetary stimulus continues to support "risk-on". Bonds shared in the rally, breaking through recent ranges and increasing their recent positive correlation with equities.
It is generally difficult to isolate a single reason for market movements. Sometimes we just guess — and this is one of those times for bonds.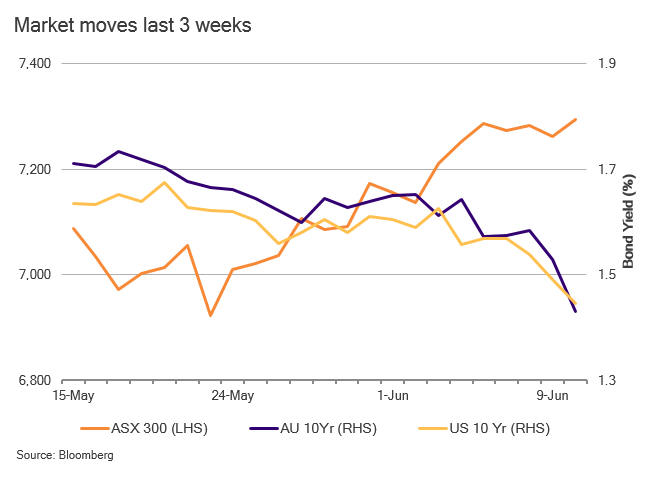 The best explanation I can find is the continued massive weight of money. This is creating a positive loop from very strong equities into bonds via pension fund reweighting — especially in the US.
A recent Milliman article shows that the 100 biggest US corporate-defined benefit pension plans overall are nearly fully funded (98.8% in May). This is an incredible result given they were funded near 70% on average a decade ago.
Amazing what a tripling in your equity market can do.
The opportunity to lock in a fully funded plan is not going missing this time. Last time they got there was early 2008 — so lessons have been learnt.
In Australia of course we are largely a defined-contribution retirement market. Unlike defined benefits plans, no one tracks or measures a liability.
We talk in general terms about funding retirement and we publish statistics about what is needed for a basic or comfortable retirement. But the concept of locking in risk market gains is more gut feel than defined levels.





Central banks continue to reward asset owners.
Even though we are now well past the depths of the Covid crisis, stimulus continues to ramp up.
This month banks will draw down around $80 billion of funds under the Term Funding Facility promised by the RBA last year. At 0.1% cost of funds for three years, the gifts keep giving well beyond when they were most needed.
Next month the RBA will likely begin signalling a back-off in stimulus by not extending Yield Curve Control. But importantly it will stay in place until April 2024.
Fortunately fiscal policy this time around has also helped wage owners with few assets. The past decade saw tight fiscal policy and loose monetary policy.
Not surprisingly capital boomed while wages stagnated. To paraphrase Midnight Oil, "the rich got richer, the poor got the picture".
Finally it seems the message is getting through that fiscal policy is a far more targeted and effective means of stimulus than monetary policy.
The main way monetary policy helps is by boosting asset prices and hoping it somehow filters down. Fiscal policy can target where needed — importantly those with a capacity to spend rather than save.
For now though, central banks are keeping a foot to the floor, hoping they can pull off the Goldilocks trick of boosting asset prices and growth without too much inflation.
A difficult balancing trick — but one for now the market is happy to believe.  
Tim Hext is a portfolio manager with Pendal's Bond, Income and Defensive Strategies (BIDS) team.
Led by Vimal Gor, Pendal's BIDS boutique is one of the most experienced and well-regarded fixed income teams in Australia. In 2020 the team won the Australian Fixed Interest category in the Zenith awards.
The team oversees $22 billion invested across income, composite, pure alpha, global and Australian government strategies with the goal of building Australia's most defensive line of funds.
Pendal is an independent, global investment management business focused on delivering superior investment returns for our clients through active management.