Michael Blayney: Managing through crises is part of investing
Financial markets have been through all sorts of crises and this is one from which the economy will eventually emerge, explains Pendal Head of Multi-Asset, Michael Blayney 
THE correction in the share market in recent weeks has been fast and significant. In percentage terms, equity indices have fallen between 20 per cent and 35 per cent.
But to keep things in perspective, during the global financial crisis in 2007, equity markets fell close to 50 per cent.
That single statistic demonstrates that the volatility experienced in financial markets in recent weeks in not unprecedented.
In fact, managing through crises is part of investing.
Every crisis looks different. Thirteen years ago, the GFC was triggered by a credit and liquidity crisis, after lenders had extended too much credit to people who couldn't pay it back.
This crisis is different. This time it's a shock to both the supply side and demand side of the economy due to the COVID-19 pandemic and the response of policy makers and businesses.
It will cause a downturn in the economy. No-one thinks differently. The question is how deep and how protracted will the downturn be?
Don't panic
Not knowing the answer to that creates uncertainty and financial markets and investors dislike uncertainty.
But investors should not panic.
Financial markets have been through all sorts of crises and this is one from which the economy will eventually emerge.
Governments have tools to deploy to help economies. It may, this time around, take a little longer but eventually they should be able to stimulate growth.
Throughout a range of crises over the past 30 years, earnings of companies have kept trending upwards.
The graph below shows US companies' earnings (in aggregate) over the past three decades. No matter what they were hit with, earnings reverted to trending upwards.
Even when there were major downturns, where earnings dropped by up to 50 per cent in real terms, earnings eventually return to the long-term trend.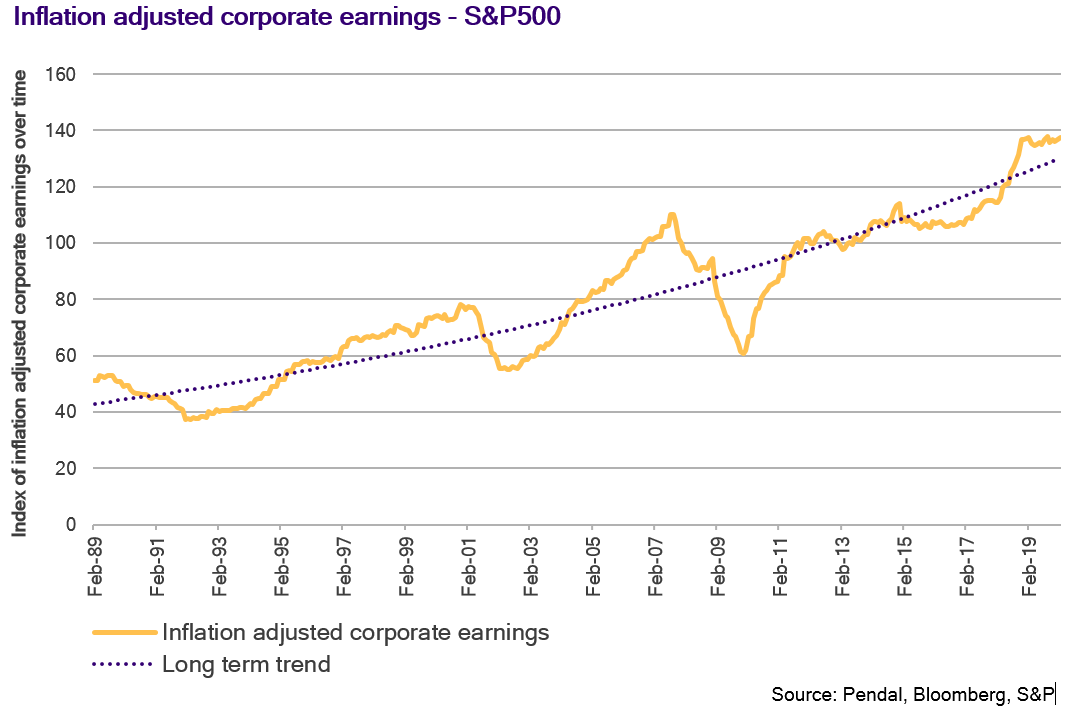 As an investor, it is important to remember that when you buy a portfolio of shares, you are buying into real companies.
Real companies have survived many crises before – world wars, the inflation shock of the 1970s, the 1987 stock market crash and the GFC of 2007.
And, in spite of some corporate failures along the way, in aggregate companies have increased earnings over time.
When you buy into the share market, you should have a long-term horizon. You are not just buying earnings over the next 12 months, but future earnings over many years.
You should think with at least a five-year horizon when investing in equities or any growth-oriented portfolio.
Companies will almost certainly report weaker profits over the next year, and they may take a little time to recover.
Long-term horizon
But if you base your investment over a long-term horizon, it is hard to argue that the value of a company today is worth 30 per cent less than a month ago.
The impact of any future economic slow-down on fair value of a company will be much less than what the market is saying right now.
In fact, in respect of a number of equity markets, long-term investors should see this as a buying opportunity.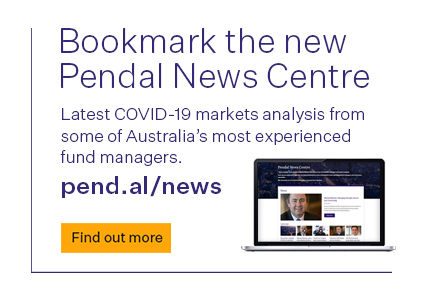 Volatility in financial markets is very normal, albeit the past few weeks have been more of a roller-coaster ride than usual. The movements demonstrate the benefits of diversification.
Equities are down between 20 and 35 per cent, but bond markets have provided positive returns. And if you had unhedged foreign exchange exposure, the depreciating Australian dollar would have helped your portfolio's returns.
Diversity acts as a portfolio stabiliser and this crisis has highlighted its benefits for investors.
You should not expect markets will remain oversold. If you look at valuations of companies, many share prices look relatively cheap.
History has told us that bailing out of equities when the market is down 30 per cent has not been a good way to create long-term wealth.
Most important is to not do anything rash.
At this point investors should stick with their long-term strategy, and if appropriate to their circumstances, look for buying opportunities.
This article has been prepared by Pendal Fund Services Limited (PFSL) ABN 13 161 249 332, AFSL No 431426 and the information contained within is current as at March 18, 2020. It is not to be published, or otherwise made available to any person other than the party to whom it is provided.
This article is for general information purposes only, should not be considered as a comprehensive statement on any matter and should not be relied upon as such. It has been prepared without taking into account any recipient's personal objectives, financial situation or needs. Because of this, recipients should, before acting on this information, consider its appropriateness having regard to their individual objectives, financial situation and needs. This information is not to be regarded as a securities recommendation.
The information in this article may contain material provided by third parties, is given in good faith and has been derived from sources believed to be accurate as at its issue date. While such material is published with necessary permission, and while all reasonable care has been taken to ensure that the information in this article is complete and correct, to the maximum extent permitted by law neither PFSL nor any company in the Pendal group accepts any responsibility or liability for the accuracy or completeness of this information.
Performance figures are calculated in accordance with the Financial Services Council (FSC) standards. Performance data (post-fee) assumes reinvestment of distributions and is calculated using exit prices, net of management costs. Performance data (pre-fee) is calculated by adding back management costs to the post-fee performance. Past performance is not a reliable indicator of future performance.
Any projections contained in this article are predictive and should not be relied upon when making an investment decision or recommendation. While we have used every effort to ensure that the assumptions on which the projections are based are reasonable, the projections may be based on incorrect assumptions or may not take into account known or unknown risks and uncertainties. The actual results may differ materially from these projections.