Why it pays to think like a cricketer when constructing portfolios
Investors need to adapt to changing circumstances when building effective portfolios — just as cricketers adjust their style for different pitches. Pendal's head of equities Crispin Murray explains.
JUST AS CRICKETERS adjust their style for different pitches, so investors need to adapt the way they think to changing economic circumstances, says Pendal's head of equities, Crispin Murray.
"Cricket is one sport, one set of rules — but very different games," says Pendal's head of equities Crispin Murray.
"From the fast-paced pitch at Brisbane's Gabba to the swing of Edgbaston in England or the spin-friendly wickets of India, cricket teams adapt the way they play to the different environments they encounter."
So too investors need to adapt to changing circumstances when building effective portfolios, says Murray.
"That's an analogy I want people to think about. Today we have a very different investment environment, and it requires different strategies in the post-COVID world."
For example the risk of inflation — a top-of-mind concern for many investors — may be increasing, but sustained price rises are no certainty, says Murray.
"If we see growth picking up, some of that slack in the economy disappearing and inflation picking up — and no response from Central Banks — that's when you'll see the market beginning to add to the probability of inflation risk," he says, speaking to the recent Conexus Financial Fiduciary Investors Symposium.
But when constructing a portfolio, investors need to keep in mind that changes in the probability of an outcome can have a disproportionate effect on the pricing of assets that protect against that outcome.
"There is real value in having inflation hedges in your portfolio because the option value that they give you in terms of that insurance is actually far more valuable today than it would have been five years ago."
Murray says the world is at a turning point post-COVID as policy-makers turn their attention to reducing inequality, rebuilding domestic capacity and supply chains and transitioning to clean energy.

"We're early in the cycle, we're still coming off such a dramatic economic downturn that there is slack in the economy."
He says equities can play a unique and multifaceted role in portfolios in this kind of climate.
"We're in a world where returns on other asset classes are going to be very low. Your running yield on bonds is low and the risk is that capital could be negatively impacted.
"Equities can provide a solution there. One of the aspects of equities that we quite like is where we see predictable sustainable, strong cash flow yields.
"In more mature industries, that's the role you're asking those companies to play in terms of giving you good yield. People will value that particularly in a zero-rate world.
Also, "equities can provide a hedge against inflation."
Finally, Murray says investors should not discount accelerating digital disruption.
"I think it'd be dangerous to just ignore growth stocks.
"What makes these companies so valuable — and what I think people have underestimated historically — is that once you get that flywheel moving, and you're getting scale, the level of capital required to generate growth is actually relatively limited.
"That creates this very powerful value generator for those sorts of companies."
About Crispin Murray and Pendal Focus Australian Share Fund
Crispin Murray is Pendal's Head of Equities. He has more than 27 years of investment experience and leads one of the largest equities teams in Australia.
Crispin's Pendal Focus Australian Share Fund has beaten the benchmark in 12 years of its 16-year history (after fees), across a range of market conditions , as this graph shows: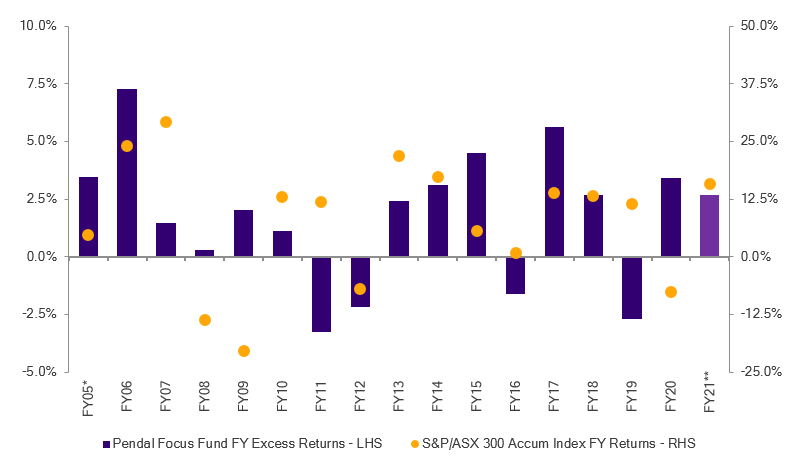 Source: Pendal. Performance is after fees and before taxes. *From 01 Apr 05; **as at 28 Feb 21. Past performance is not a reliable indicator of future performance.
Pendal is an independent, global investment management business focused on delivering superior investment returns for our clients through active management.
Find out more about Pendal Focus Australian Share Fund here. 
This article has been prepared by Pendal Fund Services Limited (PFSL) ABN 13 161 249 332, AFSL No 431426 and the information contained within is current as at May 7, 2021. It is not to be published, or otherwise made available to any person other than the party to whom it is provided. PFSL is the responsible entity and issuer of units in the Pendal Focus Australian Share Fund (Fund) ARSN: 113 232 812. A product disclosure statement (PDS) is available for the Fund and can be obtained by calling Customer Relations on 1300 346 821 (8am to 6pm Sydney time) or at our website www.pendalgroup.com. You should obtain and consider the PDS before deciding whether to acquire, continue to hold or dispose of units in the Fund. An investment in the Fund is subject to investment risk, including possible delays in repayment of withdrawal proceeds and loss of income and principal invested.
This article is for general information purposes only, should not be considered as a comprehensive statement on any matter and should not be relied upon as such. It has been prepared without taking into account any recipient's personal objectives, financial situation or needs. Because of this, recipients should, before acting on this information, consider its appropriateness having regard to their individual objectives, financial situation and needs. This information is not to be regarded as a securities recommendation.
The information in this article may contain material provided by third parties, is given in good faith and has been derived from sources believed to be accurate as at its issue date. While such material is published with necessary permission, and while all reasonable care has been taken to ensure that the information in this article is complete and correct, to the maximum extent permitted by law neither PFSL nor any company in the Pendal group accepts any responsibility or liability for the accuracy or completeness of this information.
Performance figures are calculated in accordance with the Financial Services Council (FSC) standards. Performance data (post-fee) assumes reinvestment of distributions and is calculated using exit prices, net of management costs. Performance data (pre-fee) is calculated by adding back management costs to the post-fee performance. Past performance is not a reliable indicator of future performance.
Any projections contained in this article are predictive and should not be relied upon when making an investment decision or recommendation. While we have used every effort to ensure that the assumptions on which the projections are based are reasonable, the projections may be based on incorrect assumptions or may not take into account known or unknown risks and uncertainties. The actual results may differ materially from these projections.