Equities outlook: the cases for bull and bear scenarios
Which way will equities markets go from here? Here Pendal's head of equities Crispin Murray (pictured above) outlines the case for both bull and bear scenarios. Reported by portfolio specialist Chris Adams.
At the end of last week the ASX 300 had rebounded 20% from its low, recapturing just over a third of the drawdown from the February high. However this lagged the 31% bounce in the S&P 500, which has retraced about 60% of its fall.
It is tough to make a high conviction call on market direction from here.
As we have mentioned previously, the scale of the two opposing forces – economic downturn and policy response – is material.
This is why we continue to position the portfolio to perform across a range of scenarios, rather than making a heroic call on the outcome.
The bull and bear cases for equities at this point can be summarised as follows:
Bear case
1) Risk of a second wave of infection
There is a widespread view that the US is re-opening too quickly. The risk is that a second wave of infections could prompt a return to restrictions, hitting the economy and market sentiment.
There is some mitigation from the scale of testing, which can help identify and contain outbreaks on a localised level. There have been flare-ups in China and South Korea which will provide some indication of how successfully this can be managed. Case numbers therefore take on added significance in coming weeks.
2) The economic rebound is overstated
A US survey suggests 80% of people laid off in recent weeks believe they will soon been re-employed. The usual ratio is 10-15%. This reflects a high degree of optimism that there will be jobs to return to. In the meantime the government is back-stopping incomes.
The risk is that changes in consumer behaviour are reduced, but ongoing social distancing restrictions dampen the rebound. This could mean more precautionary saving, softer demand, business closures and fewer jobs –which could feed through to areas such as housing, creating another feedback loop.
3) Valuation
BY the end of last week the ASX 300 was down only about 18% year to date despite FY20 earnings revisions of -20% to -30%, suggesting markets are not that cheap. We are also seeing the relative performance of some growth stocks quickly break back to all-time highs.
An additional factor to watch here is the view on whether US rates go negative. Various technical factors highlighted this debate last week. However the two-year note continues to trade at 16bps yield, suggesting it is not yet a foregone conclusion.
The prospect of negative rates might provide some short-term support for equities – in the sense that they become relatively attractive. However there are also implications for an economic outlook which is worse than the equity market is currently factoring in.
4) Technical resistance
The rapid and almost two-thirds retracement in the S&P 500 has now neared an important technical resistance level.
5) Politics
While the market is not yet focusing on the US Presidential election, in coming months it may start to pay attention to what is shaping up as a close race.
One factor to consider is that if the Democrats do win, they will control the White House and both Houses of Congress. We may start seeing talk of tax reform – rolling back Trump's corporate tax cuts, which could reduce earnings by as much as 20%.
The other factor is China trade. The election is likely to focus on maximising the turnout from a candidate's base, rather than swaying a marginal voter.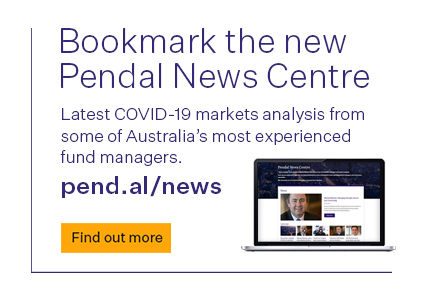 This means increased China-related rhetoric and the risk of some issues on trade, which could also feed through to corporate earnings. It is fair to say the bear case is easier to make, given how quickly the US market, in particular, has run.
That said, there is a cogent rationale for the market's rebound – and the possibility of it continuing.
Bull case
1) Policy
This is the lynchpin. The Fed's balance sheet has surged from $US4 trillion to $US6 trillion in short time with more to come. This effectively underwrites the investment grade credit market and funds government debt.
The combination of monetary and fiscal response is estimated at around 25% of US GDP.
At a global level, the "free liquidity" – surplus liquidity relative to GDP growth – is estimated at around 9% of global GDP. This is not yet the scale reached at the depth of the GFC. Nevertheless, this liquidity is finding its way into financial asset markets and continues to fuel outperformance of long-duration growth stocks.
This is important because governments and central banks are effectively saying they will continue to pull the policy lever as long as it is needed.
2) Health breakthrough
There is nothing concrete here yet, however vaccine trials have been brought forward and we may have a result sooner than many anticipate.
There is also mounting evidence that a combination of existing drugs and therapies have had some success in helping reduce the length and severity of infections. This is important in helping manage stress on medical systems for countries pursuing herd immunity.
3) Economy
There are signs an increasing number of companies think the economy may have troughed in April. As recently as two weeks ago only 25% of US companies thought the economy's trough would be in April. Now it's 40%.
A sense of having turned the corner is good for market sentiment.
4) Sentiment
The market remains bearishly positioned. Cash levels are as high as during the GFC. Surveys suggest most people expect the market to go down from here. It is not a euphoric market.
There is also a sense the market may have accepted near-term earnings will be terrible – and are looking through these to FY21. This means near-term earnings announcements may not be as relevant as usual – particularly given the dispersion in the range of S&P 500 earnings estimates is at 15% versus 3-7% in normal times.
The analogy here is that we are in the doctor's waiting room and haven't yet had the test results. Until then we can choose to be optimistic or pessimistic.
Find out more about Pendal's Australian equities investment capabilities
This article has been prepared by Pendal Fund Services Limited (PFSL) ABN 13 161 249 332, AFSL No 431426 and the information contained within is current as at May 11, 2020. It is not to be published, or otherwise made available to any person other than the party to whom it is provided.
This article is for general information purposes only, should not be considered as a comprehensive statement on any matter and should not be relied upon as such. It has been prepared without taking into account any recipient's personal objectives, financial situation or needs. Because of this, recipients should, before acting on this information, consider its appropriateness having regard to their individual objectives, financial situation and needs. This information is not to be regarded as a securities recommendation.
The information in this article may contain material provided by third parties, is given in good faith and has been derived from sources believed to be accurate as at its issue date. While such material is published with necessary permission, and while all reasonable care has been taken to ensure that the information in this article is complete and correct, to the maximum extent permitted by law neither PFSL nor any company in the Pendal group accepts any responsibility or liability for the accuracy or completeness of this information.
Performance figures are calculated in accordance with the Financial Services Council (FSC) standards. Performance data (post-fee) assumes reinvestment of distributions and is calculated using exit prices, net of management costs. Performance data (pre-fee) is calculated by adding back management costs to the post-fee performance. Past performance is not a reliable indicator of future performance.
Any projections contained in this article are predictive and should not be relied upon when making an investment decision or recommendation. While we have used every effort to ensure that the assumptions on which the projections are based are reasonable, the projections may be based on incorrect assumptions or may not take into account known or unknown risks and uncertainties. The actual results may differ materially from these projections.