Crispin Murray: what's next for ASX stocks as vaccines roll out
Here's what's driving Australian equities this week according to Pendal's head of equities Crispin Murray (pictured above). Reported by portfolio specialist Chris Adams.
THE paradox in current markets was perfectly illustrated last week.
Concerns over the impact of virus mutations on vaccine efficacy and soft economic data from the lockdown-impacted holiday period weighed on sentiment. A confusing statement from the European Central Bank raised concerns when it was interpreted by some as signalling balance sheet tapering sooner than expected.
Yet the market did not go down. The S&P/ASX 300 gained 1.33% and the S&P 500 was up 1.95%.
In current conditions, downturns in sentiment manifest in a rotation of market leaders – to growth stocks. This reflects the huge amount of liquidity that continues to support equity markets.
We expect this rotation to growth to be short lived and that cyclicals will resume leadership.
In our view:
Sentiment towards Covid is at a nadir and should improve as vaccines ease pressure in key developed markets. New cases and hospitalisations are already rolling over in the US and UK — and that's before the effects of vaccines flow through from late February.
The stimulus impact is only just kicking in. Current softer data prints are lagging indicators.
Money supply growth is re-accelerating as stimulus lands in bank accounts, helping fuel more speculative activity.
It is also important to flag that cyclicals can include growth names as well. For example, Xero (XRO) is leveraged to business creation, while Domain (DHG) is a beneficiary of a strong housing market.
Covid outlook
Key lead indicators are improving. Sharp falls in the number of new daily UK and US cases are reflecting the impact of lockdowns. This improvement may be sustained as the effects of immunising the most vulnerable kicks in.
US hospitalisations are also clearly falling now, with improvements in some of the hardest-hit states such as California. The view is: now the holiday season is over, the spread risk is reduced.

Vaccination rates continue to accelerate in the US, UK and Europe. The US is averaging 914,000 people per day — up 22% week on week. At this rate Biden's goal of 100 million people vaccinated in 100 days is achievable — and could be as high as 150 million to 200 million. Some 4.5% of the US population has had a first dose and 0.7% have received two doses.
There is some noise around vaccine production difficulties but this is misleading.
There have been plenty of doses produced, however there have been issues with distribution in some places. In the EU it seems there has been some attempt to deflect distribution issues by pointing to the manufacturer.
New vaccines
We should see Phase 3 trial data from Johnson & Johnson this week — and from Novavax in the next three weeks.
There is speculation that the effectiveness of these vaccines may be lower than the Moderna vaccines if the new strains of the virus are harder to fight off. But at this point medical authorities believe they will still be effective and will largely stop severe cases.
Economic outlook
Recent data remains soft, reflecting the lagged effect of lockdowns. But there are some signs mobility data is incrementally improving.
There has been something of a seasonal lull in US housing, though conditions remain supportive. It is worth noting the strong recovery in existing sales has not been fully matched by single new housing starts. If supply is constrained, this will continue underpinning house prices.
With distribution of the "lame duck" stimulus package underway we are seeing a spike in money supply growth — a positive signal for markets.
Market outlook
In the US, a strong week for the big tech FANG stocks, IPOs and renewables — alongside a lag among financials — illustrated the rotation to growth.
In our view this was driven by weaker sentiment on vaccines and economic growth. But it also reflects broader market positioning. There has been a significant rotation into financials and materials in recent weeks.
While this does not preclude them from performing, it does highlight the risk to these sectors from any disappointment on the economy and an associated rally in bonds.
The Australian market continued to grind higher last week — but as with the rest of the world, saw a rotation back towards growth names.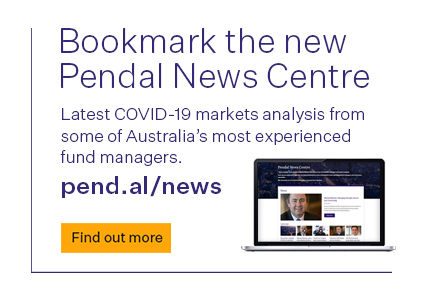 Tech names that have lagged the market caught a bid on this rotation. Wisetech (WTC, +19.73%), for example, was the best performer in the ASX 100 last week.
Growth stocks Dominos Pizza (DMP, +11.76%), Afterpay (APT, +6.14%), Ramsay (RHC, +5.59%) and Seek (SEK, +5.06%) were also among the leaders.
Resources generally underperformed last week. Alumina (AWC, -6.27%) was the weakest in the ASX 100. Beach (BPT, -4.59%), Mineral Resources (MIN, -4.12%), Fortescue (FMG, -3.42) and Santos (STO, -2.83%) also fell.
There were several quarterly production updates from the sector. BHP (BHP, -1.47%) and Rio Tinto (RIO, -1.00%) were largely in line with expectations. Some emerging cost issues need to be watched, but current commodity price strength continues to support strong cash flow.
Elsewhere Cleanaway (CWY) fell 5.3% last week as its CEO announced his departure, leaving to join a private company.
Crispin Murray is Pendal's Head of Equities. He has more than 27 years of investment experience and a strong track record leading Australian and European equities funds.
He manages a number of our flagship funds along with one of the largest equities teams in Australia.
Pendal is an independent, global investment management business focused on delivering superior investment returns for our clients through active management.
Find out more about our Australian Share funds HERE.