Crispin Murray: What's influencing ASX stocks this week
Here's what's driving Australian equities this week according to Pendal's head of equities Crispin Murray (pictured above). Reported by portfolio specialist Chris Adams.

MARKETS remain supported by strong economic data. The S&P 500 gained 2.76% last week, while the S&P/ASX 300 was up 2.52%. Market breadth remains high.
It was interesting to see mega cap growth in the US stage a comeback of sorts.
We are mindful that a stabilisation in bond yields could lead to a valuation re-rating of the defensive/healthcare sectors. The consensus trade of rotation from defensives into cyclicals that benefit from the reopening feels like it has run its course to some degree.
Covid-19 and vaccines outlook
It's generally more of the same in regard to new cases and vaccines.
We are keeping a close eye on an increase in new US cases, particularly given our exposure across materials, housing and gaming there.
Concerns over the impact of a new wave of cases on lockdowns and restrictions appear to have stabilised. Sentiment has been helped by the vaccination program (now running at 3 million new doses daily) and record highs printed in economic indicators. Hospitalisation rates remain under control.
New daily cases in France and Germany continue to improve. But their vaccination programs continue to run well below that of the UK and US. Almost half the UK population has now received one dose. In the US it's 35% and in Germany 15%.
France brought in additional restrictions last week, but our position in Atlas Arteria (ALX, +1.85%) rose nevertheless.
Economics and data
The March US ISM Services index came in at 63.7, up from 55.3 in February. This is a record high and reflects the impact from stimulus payments. It is yet another indication that the US economy is running hot.




The Fed continues to jawbone the market, attempting to convince all that they won't change tack and raise rates in response to near-term inflationary pressure.
At this point the market is giving it the benefit of the doubt. As a result US bonds remained stable — 10-year Treasury yields fell 1bp. The Australian equivalent fell 8bps to 1.76%.
The RBA provided commentary on housing. We remain mindful of the risk of macro-prudential measures, particularly for the bank sector. These do not appear imminent given current data on investor participation and affordability.
Markets
The US dollar index (DXY) weakened slightly last week while most commodities were up. Iron ore rose 3.7%, copper 1.2% and gold 1%.
Brent crude fell 2.9% despite oil inventories reaching six week lows, following OPEC's decision to gently increase supply. It is up 21.5% for the calendar year-to-date.
Our key consideration at the moment is the changing shape of the rotation thematic within the equity market.
In most markets that have had a reasonable run in the last 12 months, the constituents of the "momentum" and "value" buckets have changed quite materially over the last quarter.
Generally the (non-materials) cyclical stocks that used to be the considered "value" have now become the momentum stocks. There is a developing argument that some of the high-flying growth stocks that have underperformed in recent months are now looking relatively attractive.
This could be yet another material shift in the market drivers. There is a high degree of uncertainty which emphasises the importance of having a balanced, non-binary approach to portfolio construction in this environment.




A combination of stabilisation in treasuries and a moderating rotation in the market was generally supportive for equity indices in aggregate.
Only eight stocks in the ASX100 fell last week. AMP (AMP, -4.9%) fell furthest as the company announced the CEO's departure following weeks of speculation. Disappointment in the effort to realise value via asset sales seems to be a key factor.
Chemical and explosives company Incitec Pivot (IPL, -3.8%) fell after management announced its Wagaman ammonia plant in the US would be offline for longer than expected. Earnings downgrades were in the order of 10%.
Afterpay (APT, +15.1%) was the best performer in the ASX 100, consistent with the better performance from large-cap tech growth stocks in the US. This reflects our view that the recent thematic rotation may have run its course for now.
Our preferred exposure to tech growth, Xero (XRO), gained 6.1%. Other growth stocks such as Seek (SEK, +8.8%), REA Group (REA, +8.7%), and Carsales.com (CAR, +6.9%) caught a bid.
Gold miners Northern Star (NST, +11.2%), Evolution (EVN, +9.1%) and Newcrest (NCM, +6.6%) benefited from a shift back into more defensive areas.
Cleanaway (CWY, +12.3%) made a bid for the Australian-based assets of global waste management group Suez. Suez is subject to a hostile takeover bid on the Paris bourse, which complicates the deal. Nevertheless the market responded well to potential domestic industry consolidation.
It is worth noting the scale of mergers and acquisitions activity in the market. Globally, M&A activity is running at about US$900 billion in 2021.
This is already higher than the total for any year in the past two decades. We suspect there is plenty more to come in 2021 as confidence in the recovery grows.
About Crispin Murray and Pendal Focus Australian Share Fund
Crispin Murray is Pendal's Head of Equities. He has more than 27 years of investment experience and leads one of the largest equities teams in Australia.
Crispin's Pendal Focus Australian Share Fund has beaten the benchmark in 12 years of its 16-year history (after fees), across a range of market conditions , as this graph shows: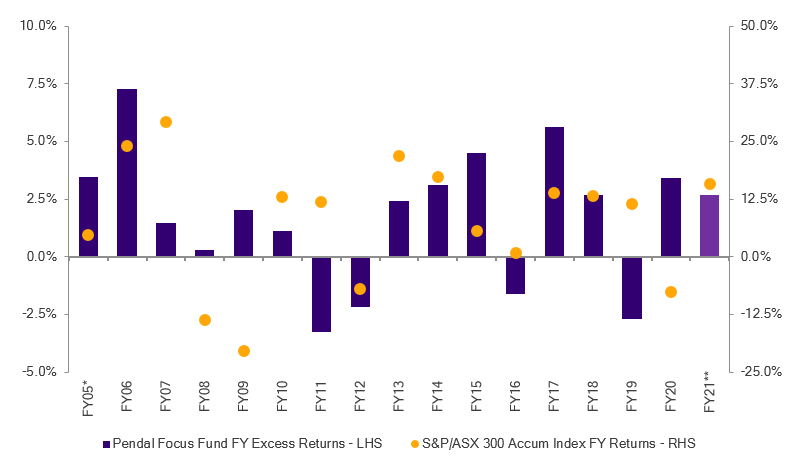 Source: Pendal. Performance is after fees and before taxes. *From 01 Apr 05; **as at 28 Feb 21. Past performance is not a reliable indicator of future performance.

Pendal is an independent, global investment management business focused on delivering superior investment returns for our clients through active management.
Find out more about Pendal Focus Australian Share Fund here. 
This article has been prepared by Pendal Fund Services Limited (PFSL) ABN 13 161 249 332, AFSL No 431426 and the information contained within is current as at April 12, 2021. It is not to be published, or otherwise made available to any person other than the party to whom it is provided.
PFSL is the responsible entity and issuer of units in the Pendal Focus Australian Share Fund (Fund) ARSN: 113 232 812. A product disclosure statement (PDS) is available for the Fund and can be obtained by calling 1800 813 886 or visiting www.pendalgroup.com. You should obtain and consider the PDS before deciding whether to acquire, continue to hold or dispose of units in the Fund. An investment in the Fund is subject to investment risk, including possible delays in repayment of withdrawal proceeds and loss of income and principal invested.
This article is for general information purposes only, should not be considered as a comprehensive statement on any matter and should not be relied upon as such. It has been prepared without taking into account any recipient's personal objectives, financial situation or needs. Because of this, recipients should, before acting on this information, consider its appropriateness having regard to their individual objectives, financial situation and needs. This information is not to be regarded as a securities recommendation.
The information in this article may contain material provided by third parties, is given in good faith and has been derived from sources believed to be accurate as at its issue date. While such material is published with necessary permission, and while all reasonable care has been taken to ensure that the information in this article is complete and correct, to the maximum extent permitted by law neither PFSL nor any company in the Pendal group accepts any responsibility or liability for the accuracy or completeness of this information.
Performance figures are calculated in accordance with the Financial Services Council (FSC) standards. Performance data (post-fee) assumes reinvestment of distributions and is calculated using exit prices, net of management costs. Performance data (pre-fee) is calculated by adding back management costs to the post-fee performance. Past performance is not a reliable indicator of future performance.
Any projections contained in this article are predictive and should not be relied upon when making an investment decision or recommendation. While we have used every effort to ensure that the assumptions on which the projections are based are reasonable, the projections may be based on incorrect assumptions or may not take into account known or unknown risks and uncertainties. The actual results may differ materially from these projections.