Crispin Murray: what's driving ASX stocks this week
Here's what's driving Australian equities this week according to Pendal's head of equities Crispin Murray (pictured above). Reported by portfolio specialist Chris Adams.
MARKETS rallied last week as the sell-off in bonds slowed down and data suggested the US economy was about to kick into a phase of strong growth.
The rotation to value continued. However on Friday we saw some signs of a rebound in tech names from a significantly oversold level.
The S&P/ASX 300 rose 0.98%, while the S&P 500 was up 0.84%
Covid and vaccine outlook
The rate of decline in new cases in the US slowed last week, but this likely reflects a lag in reporting after winter storms.
Hospitalisation rates continue to improve substantially, prompting speculation that restrictions in some countries may be eased sooner than expected.
The vaccine roll-out continues to accelerate in the US. It's now reached 2.3 million per day. This will rise with greater supply. The number of people who have been vaccinated now exceeds the total number of reported cases in the US.
The gap in vaccination rates between the US (and UK) versus Europe continues to widen. This has implications for the economic outlook and may account for some of the strength in the US dollar last week.




Novavax released data from a trial in South Africa. Placebo group results revealed that people who had previously caught the original strain of Covid were just as likely to catch the new South African strain – and to become as sick.
This is an issue to watch. It may have implications for where and when international border restrictions are eased.
Economics and policy outlook
The US payroll data was very strong for February. It is likely to be the first of a number of strong data prints as the economy begins to reopen and the next wave of stimulus kicks in.
There is nevertheless a lot of slack left in the economy. The payroll data is still 10 million jobs below the previous peak. At the worst point of the GFC the payroll data had fallen by 9 million. This excess capacity is why policy makers believe they can stimulate and keep rates near zero for an extended period without triggering inflation.
Many of these lost jobs are in leisure and hospitality, which still has a long way to recovery. As the economy re-opens this sector could see a lot of job growth in the next few months. We are seeing signs of a potential breakout in mobility data above its range of the last nine months.
The Biden stimulus package is set to go ahead – US$1.9 trillion is more than most expected. This underpins our expectation of support for higher corporate earnings – and equity markets – as some 9% of annualised GDP is injected into the market in the next few months.
Focus now shifts to the infrastructure bill. Consensus is a US$2 trillion package, though there is chatter of something up to US$4 trillion.
We see indication of enormous pent-up demand globally, though the US stands out. Once the latest US$1400 stimulus cheques go out, the US savings rate is expected to hit 18%. That compares to 7% pre-Covid. This is supportive of economic activity, as are surveys suggesting a material pick-up in corporate capex later in the year.
Market outlook
Bonds yields continued to move higher last week, though in a more orderly manner.
Comments from the Fed suggest it's comfortable with yields gradually rising towards 2%, given they reflect a better outlook for growth. The Fed is unlikely to move pre-emptively to control yields unless they start to break out in a disorderly manner and threaten to choke off growth.
US 10-year yields rose 16bps to 1.57% for the week. The Australian equivalent fell 8 bps to 1.83%.





Brent crude rose 4.9% on the OPEC decision to extend restrictions on production. Other commodities consolidated as the US dollar bounced.
We started to see a bounce in some growth names late last week. They may make a recovery form oversold levels from here. That said, we may see divergence between the larger cash-generating plays and the loss-making, higher-growth sub-sectors.
The Top 20 stocks drove the Australian equity market higher. The ASX 20 gained 1.8% versus a 1.5% fall in the Small Ordinaries. The banks played a key role, up 6.6% as the effect of higher bond yields flowed through. ANZ (ANZ, +10.2%) was the best performer in the ASX 100.
Resources (-0.6%) saw some consolidation as commodities softened, although Energy (+3.3%) saw the benefits of a higher oil price. Gold miners were among the worst performers in the market.
There was limited company news in the wake of reporting season.
Xero (XRO, -4.4%) announced its $280 million acquisition of Planday, a cloud-based workforce management solution based in Copenhagen. This extends XRO's product suite, potentially helping further its expansion into Europe. The shares were caught up in a rotation away from growth, but we believe the deal is a good one. XRO remains among our preferred exposure in tech.

About Crispin Murray and Pendal Focus Australian Share Fund
Crispin Murray is Pendal's Head of Equities. He has more than 27 years of investment experience and leads one of the largest equities teams in Australia.
Crispin's Pendal Focus Australian Share Fund has beaten the benchmark in 12 years of its 16-year history (after fees), across a range of market conditions , as this graph shows: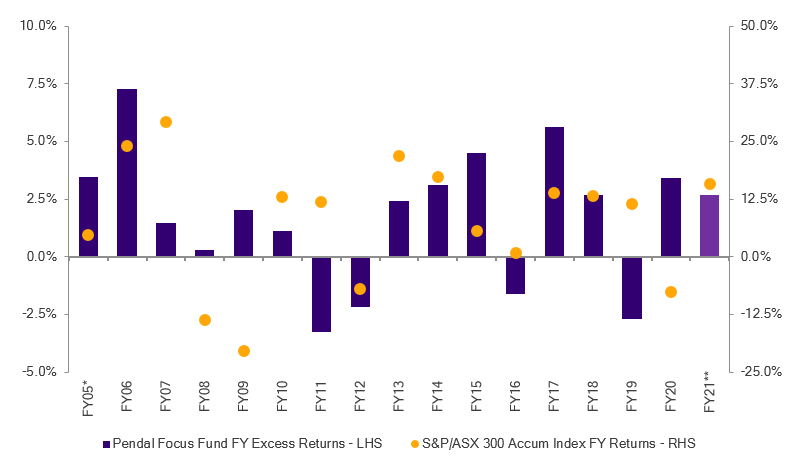 Source: Pendal. Performance is after fees and before taxes. *From 01 Apr 05; **as at 28 Feb 21. Past performance is not a reliable indicator of future performance.
Pendal is an independent, global investment management business focused on delivering superior investment returns for our clients through active management.
Find out more about Pendal Focus Australian Share Fund here. 
This article has been prepared by Pendal Fund Services Limited (PFSL) ABN 13 161 249 332, AFSL No 431426 and the information contained within is current as at March 8, 2021. It is not to be published, or otherwise made available to any person other than the party to whom it is provided.
PFSL is the responsible entity and issuer of units in the Pendal Focus Australian Share Fund (Fund) ARSN: 113 232 812. A product disclosure statement (PDS) is available for the Fund and can be obtained by calling 1800 813 886 or visiting www.pendalgroup.com. You should obtain and consider the PDS before deciding whether to acquire, continue to hold or dispose of units in the Fund. An investment in the Fund is subject to investment risk, including possible delays in repayment of withdrawal proceeds and loss of income and principal invested.
This article is for general information purposes only, should not be considered as a comprehensive statement on any matter and should not be relied upon as such. It has been prepared without taking into account any recipient's personal objectives, financial situation or needs. Because of this, recipients should, before acting on this information, consider its appropriateness having regard to their individual objectives, financial situation and needs. This information is not to be regarded as a securities recommendation.
The information in this article may contain material provided by third parties, is given in good faith and has been derived from sources believed to be accurate as at its issue date. While such material is published with necessary permission, and while all reasonable care has been taken to ensure that the information in this article is complete and correct, to the maximum extent permitted by law neither PFSL nor any company in the Pendal group accepts any responsibility or liability for the accuracy or completeness of this information.
Performance figures are calculated in accordance with the Financial Services Council (FSC) standards. Performance data (post-fee) assumes reinvestment of distributions and is calculated using exit prices, net of management costs. Performance data (pre-fee) is calculated by adding back management costs to the post-fee performance. Past performance is not a reliable indicator of future performance.
Any projections contained in this article are predictive and should not be relied upon when making an investment decision or recommendation. While we have used every effort to ensure that the assumptions on which the projections are based are reasonable, the projections may be based on incorrect assumptions or may not take into account known or unknown risks and uncertainties. The actual results may differ materially from these projections.
For more information, please call Customer Relations on 1800 813 886 8am to 6pm (Sydney time) or visit our website at www.pendalgroup.com.