Crispin Murray: seven key issues for ASX investors to watch
Here's what's influencing Australian equities this week according to Pendal's head of equities Crispin Murray (pictured above). Reported by portfolio specialist Chris Adams.
THERE was an unsurprising consolidation in equity markets last week following a strong run. The S&P/ASX 300 gained 0.15%, while the S&P 500 fell 0.82%.
This pause for breath has been orderly — we do not see signals of anything more meaningful at this stage.
As we move into the holiday period, we are monitoring seven key issues in coming days and weeks:
1. Will the global economy continue to surprise on the upside?
The global economy continues to run hot by aggregate measures of GDP and other indicators. However this is driven largely by industrial production.
Stimulus measures have held up consumer spending but there has been a shift from services to goods. As a result, production is running hard as depleted inventories are restocked. This is evident in commodity prices and activity data such as US railcar loadings and trucking stats.
There are signs of weaker consumer activity in the US under the current wave of Covid. This has been felt most in areas such as dining and entertainment. Retail spending remains strong although growth has slowed.
The jobs front in the US remains reasonable. Continuing jobless claims – probably the best real time measure – are slowly but surely continuing to trend down.
The impact of the latest northern hemisphere Covid wave needs to be watched — but at this point the economic situation remains solid. This is also reflected in credit markets, which are signalling a benign view.
2. Will the US see harder lockdowns?
Covid case data has re-accelerated in the US as post-Thanksgiving reporting flows through. The potential for harder lock-downs poses a risk to the current economic situation.
Localised restrictions have been enacted in some areas – particularly in California last week.
Hospitalisations and Intensive Care Unit (ICU) admissions remain the key factors to monitor. Hospitalisations are up 7% week-on-week.
The rolling seven-day average of net new daily hospitalisations is around 1000 patients. This is down from 2000 in mid-November, but the next week or two will tell if this re-accelerates due to the Thanksgiving lag.

Overall, ICU occupancy continues to sit at high levels but has not deteriorated. Average ICU occupancy in metro areas is running at about 75%, while 14% of metro areas are running at 90% or greater and a quarter are at 80% or greater.
This is the same as last week but bears watching.
We are moving into a period where traditional flu cases rise dramatically. So far this has not happened – but it could also be an important variable in pressure on the medical system.
3) Will new vaccine trial data identify any material issues?
Following initial positive news on high efficacy rates for the Moderna and Pfizer vaccines, subsequent news flow has raised some questions about health impact at the margin.
For example, data released on the Pfizer trial has shown incidence of Bell's Palsy, lymphatic swelling and even appendicitis are all higher in trial groups taking the vaccine.
The Moderna trial will release more data this week while the UK vaccine roll-out could see other issues identified. Something to watch out for in coming weeks.
4) Ability to deliver an effective vaccine on the necessary scale
The market seems quite jumpy at any noise regarding the availability of vaccines. It's important to remain aware of any issues regarding the supply chain. We also need to watch how effectively Moderna is able to handle its distribution.
At this point surveys suggest people's propensity to take a vaccine continues to rise. However this is closely linked to views on its efficacy.
This may become an issue in Australia given our agreements with AstraZeneca and Novavax – and lack of agreement with Moderna.
5) Policy updates
Policy support remains the single greatest factor supporting the recovery in markets. Any signal from central banks that questions this support would be a negative. We are not seeing any sign of this at the moment.
The Fed meets this week and at the moment consensus is 50/50 on whether it will announce a lengthening of the maturity of the bonds they are willing to buy, with a view to containing the current sell-off in bonds.
Last week the European Central Bank extended the length of its current bond-buying program, without adding to its intensity.
The ECB struck a cautious tone, offering no comment on how much it planned to buy each month, saying only it would respond to conditions. This suggests there is greater push-back on the level of stimulus within Europe.
On the fiscal side, the odds of a near-term deal are also around 50% — and have probably deteriorated in recent days.
The tide of liquidity supporting the market is manifesting in several interesting ways. Equity market valuations look very high by historical standards in the US. Although the relative yield between equities and other asset classes is also at high levels, which is supportive.
6) Georgia Senate runoffs
Runoff elections due to take place in the US state of Georgia on January 5 have the potential to move markets. Recent polls suggest a close-fought race.
If the Democrats ended up with control of Congress, it would shift expectation on a fiscal package, prompting a further sell-off in bonds and rotation to value within equity markets.
7) Brexit
A potential wildcard. The situation remains fluid, and it seems negotiators have bought themselves more time overnight.
Markets outlook
Bond yields fell 8bps (US 10-year sovereigns) on concerns on the impact of lockdowns in the US. There will be a lot of focus on the Fed meeting this week, to see if it extends the duration of the bonds they are will willing to buy, to keep yields under control.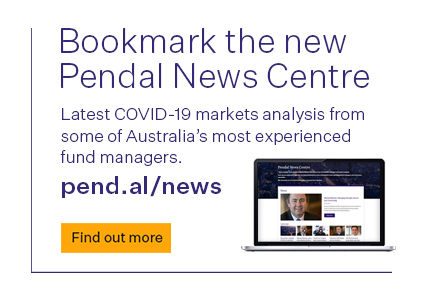 In commodities, iron ore continued higher on end-of-year restocking, as well as concerns that recommendations on the government inquest into the Juukan Gorge incident may have some impact on supply.
The Australian dollar broke higher, up 1.4% against the USD, on the back of good domestic economic indicators and higher commodity prices. It is sitting at 75c and may strengthen – an aspect to watch for some stocks.
The Australian market was led last week by Resources (+2.45%). There was some rotation back to growth and defensives following a couple of weeks of under-performance. Information Technology gained 2.76% and Consumer Staples was up 1.5%.
Crispin Murray is Pendal's Head of Equities. He has more than 27 years of investment experience and a strong track record leading Australian and European equities funds.
He manages a number of our flagship funds along with one of the largest equities teams in Australia.
Pendal is an independent, global investment management business focused on delivering superior investment returns for our clients through active management.
Find out more about our investment capabilities: https://www.pendalgroup.com/about/investment-capabilities
Contact a Pendal key account manager: https://www.pendalgroup.com/about/our-people/sales-team/
This article has been prepared by Pendal Fund Services Limited (PFSL) ABN 13 161 249 332, AFSL No 431426 and the information contained within is current as at December 14, 2020. It is not to be published, or otherwise made available to any person other than the party to whom it is provided.
This article is for general information purposes only, should not be considered as a comprehensive statement on any matter and should not be relied upon as such. It has been prepared without taking into account any recipient's personal objectives, financial situation or needs. Because of this, recipients should, before acting on this information, consider its appropriateness having regard to their individual objectives, financial situation and needs. This information is not to be regarded as a securities recommendation.
The information in this article may contain material provided by third parties, is given in good faith and has been derived from sources believed to be accurate as at its issue date. While such material is published with necessary permission, and while all reasonable care has been taken to ensure that the information in this article is complete and correct, to the maximum extent permitted by law neither PFSL nor any company in the Pendal group accepts any responsibility or liability for the accuracy or completeness of this information.
Performance figures are calculated in accordance with the Financial Services Council (FSC) standards. Performance data (post-fee) assumes reinvestment of distributions and is calculated using exit prices, net of management costs. Performance data (pre-fee) is calculated by adding back management costs to the post-fee performance. Past performance is not a reliable indicator of future performance.
Any projections contained in this article are predictive and should not be relied upon when making an investment decision or recommendation. While we have used every effort to ensure that the assumptions on which the projections are based are reasonable, the projections may be based on incorrect assumptions or may not take into account known or unknown risks and uncertainties. The actual results may differ materially from these projections.